TAKE THE £10K CHALLENGE FOR AQOB 2020!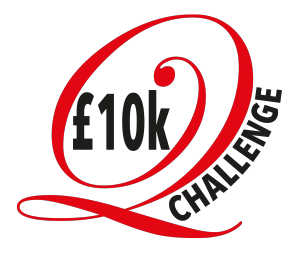 STEPS needs your support and we would like to set you a challenge!
If you or your company could raise £10K for STEPS we will give you a free table of 10 places at the prestigious
A Question of Brains Dinner on 6th October 2020.
Get your company involved, your staff engaged and have fun while making a real difference to disabled children's lives.
Look how other business have fundraised for Steps and presented cheques at our annual A Question Of Brains dinner:
Caterpillar raised £11,000 through corporate fundraising and as their charity of the year in 2007/8 raising £30,000 for STEPS!
Mark J Rees Chartered Accountants raised £15,000 for STEPS through a staff team challenge as they celebrated their 40th anniversary.
Birmingham Metropolitan College raised £17,000 by "fining" students when they forgot their passes!
Healy Group gave a £10,000 donation.
Efficiency East Midlands raised £10,000 at an awards dinner they held.
Linden Homes raised £14,500 from a golf day and auction.
COULD YOUR BUSINESS HELP US TOO?
Consider a sponsored challenge (bike ride, run, walk), a fundraising event, a team building initiative or a corporate initiative. The possibilities are endless!
Register your interest by emailing enquiries@aquestionofbrains.org so we can help you with PR and press support.